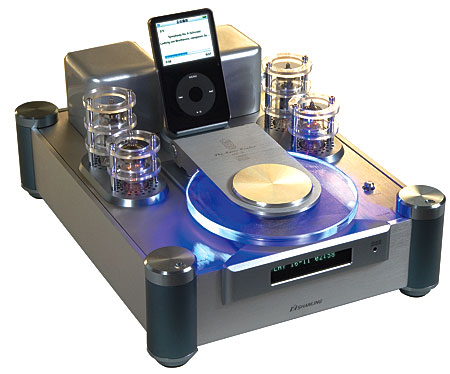 My first one-piece stereo—I think I paid $60 for it, including a pair of speakers with pegboard backs—gave me a lot of pleasure when I was young, and I loved it. Everything that came after has been better in every way but one: None has inspired that kind of love. And most have left me wondering if there might be something just a little bit better.
The road to eternal dissatisfaction had a gentler on-ramp in 1972: Component systems, from soup to nuts, were available for just a few hundred dollars—money you could make mowing lawns or stocking shelves. Thirty years later, the choice is harsher: cheap appliances on the one hand, so-called high-end audio on the other.
Audio critics, the paunchy old bastards, have long encouraged closing the gap from above, with less expensive products from the latter group. Sadly, after describing certain $5000/pair loudspeakers and even $8000 turntables as affordable, we've rendered the word all but meaningless.
Now we're seeing movement from the other direction. I can't say for sure who was first to the market with a one-piece stereo unit of very high quality that was still (genuinely) affordable—the $599 Polk Audio iSonic of 2005 was the first to get my attention—but the Shanling MC-30 Music Center is the newest and, quite possibly, the most remarkable attempt at bringing high-quality playback gear within the reach of the average music enthusiast.
Description
The Shanling MC-30, designed and manufactured in the People's Republic of China, combines a CD player, AM/FM tuner, and iPod dock (using a 3.5mm stereo jack) with a very basic yet reasonably easy-to-use integrated amplifier. The only catch is also the biggest hook: The integrated amp is a very-low-output single-ended design, thus limiting your choice of loudspeakers while at the same time (I daresay) enabling musical and sonic performance that's a bit more involving than usual.
Line-level gain is supplied by solid-state devices (a dual-mono pair of Burr-Brown op-amps, also used for voltage gain in the digital audio section), and each channel of the power amp is driven by a 6N3J dual-triode tube. The output section is a capacitor-coupled 6P1 beam tetrode operated in single-ended (thus class-A) mode for a total of 3Wpc.
The CD player and iPod dock both address a Burr-Brown PCM1738E D/A converter chip that apparently uses its own 8x-oversampling digital filter. (The Burr-Brown chip can also be used with external filters, but I couldn't locate one on the board.) The tuner section, self-contained and shielded, is presumably bought-in from elsewhere.
The ergonomic interfaces for some of those bits and pieces are remarkable. Volume adjustment is provided by a resistive-ladder-on-a-chip of the usual sort—but the control knob is actually the top portion of the MC-30's front-right support pedestal. Similarly, when the top of the front-left pedestal is rotated, the user selects among the various sources described above and a line-level auxiliary input. The Shanling dispenses with a motorized CD drawer altogether: Its Philips VAM-12 transport is accessed manually from the MC-30's top surface, and protected by a hinged demi-lid that incorporates an illuminated Plexiglas disc as well as the standard low-mass magnetic clamp.
The whole of the Shanling's front panel is occupied by a digital readout for all the usual functions—plus remote sensor, conveniently labeled as such—while the rear panel is home to phono jacks for auxiliary in and preamp out (!), plus jacks for the (supplied) AM and FM antennas and EU-compliant speaker jacks. In addition to the four tubes themselves—all protected with attractive stacks of Plexiglas rings—the top surface contains a jack and support for an iPod, two output-transformer covers, and a four-way, touch-sensitive toggle used for various functions. The MC-30 is switched on and off with a round toggle button on its left-hand side.
The quality of materials and parts used to make the Shanling MC-30 is surprisingly, almost jarringly high. The build quality is just as good. Its casework wouldn't shame a five-figure product in this industry, let alone a three-figure one. Inside, the MC-30's circuit-board construction is very good, the only odd note being a solid-state rectifier tucked away in one corner, saddled with a heatsink that appeared to have been an afterthought. (Then again, I'm glad someone thought of it at all.) The packaging is decent, the owner's manual acceptable, the styling remarkable.
I asked Roy Hall of Music Hall, Shanling's US importer, if he could explain the origin of the company's name; after a number of attempts, he admitted defeat: "It has something to do with a mountain."
Setup and listening
Infinity, JBL, Klipsch, Mission, Polk, and other companies all sell loudspeakers for under $500/pair that offer sufficiently high electrical sensitivity and appropriate impedance characteristics for the MC-30's 3Wpc amplifier; I would send any prospective Shanling owner in that direction, with a clear conscience and a hopeful heart.
I chose instead to review the MC-30 in the context to which I'm accustomed: The similarly sensitive and easy-to-drive Audio Note AN-E SPe/HE loudspeakers ($7225/pair in birch burl, stands additional). The pairing may have been perverse, but it gave me an arguably unique view of the Shanling's strengths.
Those strengths are considerable—for the money and, to an understandably lesser extent, for any product that aspires to perfectionist-quality playback. Overall, and virtually regardless of source, the MC-30 had very good musical timing and tunefulness, with a surprisingly good sense of scale and spatial detail with stereo recordings. Acoustic instruments had a small but satisfying degree of very real-sounding texture, and voices and solo instruments stood in front of the rest of the mix, just as they should. The MC-30's most obvious flaw was a shortage of very deep bass and trace of lightness—though not brightness—in its overall tonal character.
Most of my MC-30 experience came courtesy of its CD player—as I've mentioned in previous issues, a lack of broadband Internet access is the only thing keeping me from iPod ownership—but the Shanling's FM tuner deserves mention. Even in Godforsaken central New York State, even with just its freebie antenna—a 60" piece of insulated wire with a connector at one end—the MC-30 pulled in 21 stations, some clearly enough to startle me. (Sadly, one of those was an overmodulated signal from an evangelical preacher, who observed that he was preaching on the radio only because "God wants me to!" Silly me, thinking pride was a sin!)
But the real centerpiece of the Shanling's performance was its musical and sonic success with CDs. I was so inspired by the notion of a truly high-quality $999 music center that my listening notes morphed into a music guide for the college-bound buyer:
First: Get someone to buy you a copy of any of the better, more accessible interpretations of Mahler's Symphony 2: Bruno Walter's (Sony 64447 et al), Leonard Bernstein's earliest (Sony 89499 et al), or either of Gilbert Kaplan's (MCA Classics MCAD-2 11011, Deutsche Grammophon 000141436). Save Scherchen and Fried and even Tilson Thomas for later: You might not appreciate them quite yet.
Now, here's the listening test: Do you get it? Do you understand why the disturbing first movement is followed by such quaint drawing-room music in the second, then a grotesquerie in the third? Does the beginning of the fifth movement scare the crap out of you, and does the ending make you cry (and not just a little)?
The Shanling, even though it got in over its head during the loudest, scariest bits, and sounded light and fussy when the opposite should have been true, did indeed get it. Playing my favorite Mahler Seconds on the MC-30, I could and did respond emotionally to them. No small feat.
Second: You should probably have a copy of Joanna Newsom's Ys (Drag City DC303CD), which I hesitate to call a masterpiece only because Newsom is just 26 years old—there's no telling what else she'll have to say. But the album is masterful and moving and unlike anything else in music, period. So get it.
That done, play "Only Skin," which is both the climax and the centerpiece of the record. ("Cosmia" is more of a coda, howsoever brilliant in its own right.) What should a good stereo do for "Only Skin"? The squeak of Newsom's voice at the very beginning should be distinct but not harsh, the French horn should sound as if it's coming from well behind the other instruments, every plucked note of her harp should jump out like a gem—but the big thing is, the song should make you cry a little, especially the part about the bird. And, again, the Shanling did well enough on all those things, especially the important ones, though a little more bass would have been nice.
Third: One of the most indispensable albums for any guitar enthusiast is the very first of Joe Pass's many Virtuoso albums (JVC VICJ-60256), which finds the artist playing without accompaniment on his trademark Gibson deep-bodied archtop: a characteristically dry sound, without a lot of sustain apart from that which seems to come from the guitar amplifier. The first song, Cole Porter's "Night and Day," opens with a descending G-minor arpeggio; it would be nice if your stereo is good enough to let you hear that Pass is playing it almost in the style of Django Reinhardt: all downstrokes. (Actually, Django used an alternating pick technique when fretting different notes on the same string, reverting to successive downstrokes when moving from string to string.) The Shanling nailed it. Also, you should be able to hear that the G near the end of the arpeggio is the same note, but an octave lower, as the one at the beginning. Don't laugh: I can think of at least two popular turntables that screw that up, even though they have wonderfully high-end "soundstages." Again, the Shanling was just good enough to get it right.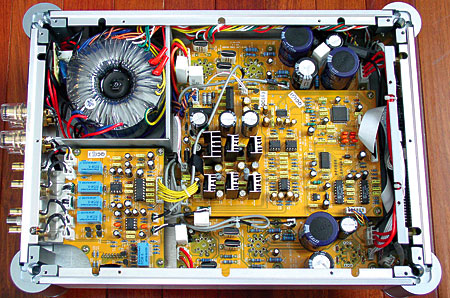 Fourth: Another, very different guitar record is Bryan Sutton's Bluegrass Guitar (Sugar Hill SUG-CD 3975): a contemporary recording of a talented young bluegrass picker accompanied by mandolin, fiddle, string bass, and occasional banjo. Sutton plays a dreadnought guitar with a mahogany body, and, like most flattop guitars, the instrument on this record has a round sound hole—all of which adds up to a more ringing, resonant sound than Joe Pass's guitar, with a great deal more sustain. Interestingly, even the Shanling made it apparent when Sutton was applying a bit of mandolin-style damping with his left hand, as in some of his rhythm comping behind the other players. (You can hear it especially well behind the first mandolin solo on the North Carolina fiddle tune "High Heel Shoe.") Throughout the album, the Shanling made it clear that the lead instrument is what it is—essentially, a Martin D-18—and while the young Sutton isn't yet known as a "tone" player in the manner of a Tony Rice, David Grier, or Russ Barenberg, his fine, distinctly clear sound came through very well indeed.
Fifth: When you listen to Glenn Gould's second (1981) recording of Bach's Goldberg Variations (Sony S3K 87703 et al), you should be able to tell that it's much more effective—and fun—than the first. Within about four bars. During Variation 20 you should be genuinely astounded that a single human being could think, let alone play a musical instrument, in so many different rhythmic streams at the same time. The Shanling got all of that across amazingly well, and surprised me by keeping its head when the playing got really loud. Borderline awesome.
Sixth: Speaking of which, how about Yo-Yo Ma's 1982 recording of Bach's Six Suites for Unaccompanied Cello (Sony Legacy JK 89796 et al)? Some people think his approach too mechanical, too perfect; I can see where they'd get the idea, although I don't think the shortcomings of Ma's very precise playing are that dire. The worst thing I can say about the recording is that some of the dynamic peaks sound a little fake to me, more like gain riding than anything that happened on the other side of the glass. Still, Ma's tone is lovely, and there is unexpected humor in some of his passages. And the believable sense of scale and (for once) satisfying bass depth on this disc were very nice through the Shanling.
Seventh: The only studio album that Jeff Buckley completed in his lifetime is now 14 years old. By comparison, Miles Davis's Bag's Groove turned the same age in 1968, when he was recording the sessions for Bitches Brew, and Buddy Holly's debut album turned 14 in 1972, the year Roxy Music released their first record. But in this musically less fertile era, and notwithstanding the occasional very nice record, Buckley's Grace (Columbia CK 57528) still sounds like the cutting edge in artsy yet visceral pop music. There are more unexpected melodic twists on this record than on any other I know, and Buckley was one of the very few truly accomplished pop vocalists whose style called to mind something other than a high school musical, a halftime show at the Superbowl, or tap dancing.
I despise pronouncements, but here it's appropriate: Grace is a masterpiece—perhaps the greatest pop record of the 20th century's last decade—and you need to own it. Any CD player that boots it and plays it will add to your happiness. The Shanling went further by letting the harmonium keep its texture in "Lover, You Should Have Come Over," by not getting overwhelmed by the dense mix of "Dream Brother," and by not going too far overboard—although it could have done better—on the vocal sibilants, which are a little overdone on this recording. And it could've used more bass.
Eighth: If you're at all like me, God help you, you may have limited patience with most pure, unblended folk musics, howsoever wonderful. (I find much more to enjoy in hybrids such as bluegrass and rock'n'roll.) Consequently, as much as I appreciate the originality of Skip James, Charlie Patton, and Robert Johnson, I seldom last through more than a half dozen numbers in one sitting. The only exception is Bukka White. The songs he recorded after his release from Mississippi's notorious Parchman Farm prison camp, as compiled on his The Complete Sessions, 1930–1940 (Travelin' Man, TM CD 03), are hypnotically compelling, due in part to the sheer relentlessness of White's guitar playing. You want a hi-fi that can get across the idea of momentum and flow in the music, and a really good one will make it obvious when the performer leans into the beat. I heard a lot of very expensive systems in 1984–86, when I was first exposed to the very costly American high-end gear of the day, and not one of them succeeded in that regard. But the Shanling MC-30 did, handily.
Conclusions
When I'm wearing my audio-reviewer pants I don't care about geopolitical this or envirotechnology that or much of anything else. There are some very legitimate concerns out there, of course—and some illegitimate ones, too, which often boil down to nothing more than racism—but those are things that you must address for yourself. Me, I'm just an audio writer.
Most of the time, I find it easy to be fair and circumspect and to bear in mind that, at this time in human history, the global marketplace is hardly a level playing field; but I can't help it if a product such as the Shanling MC-30 Music Center makes other manufacturers and designers look like greedy, incompetent asshats.
In the here and now, divorced from all other concerns, the Shanling MC-30 is obviously—obviously—an extraordinarily good value for the money. The design is ingenious, the build quality superb, the performance beyond merely satisfying.
If you have a child on the way to college who has a serious interest in music, buy him or her a Shanling MC-30 Music Center and a cheap pair of speakers. If you are that young person and have some extra cash lying about, and your parents don't have the good sense to obey my every edict, then by all means: Buy this. That's it—just buy it. Have some fun, apply yourself to whatever music you're listening to, and, if you're a boy, stay the hell away from my daughter.
Related Links...