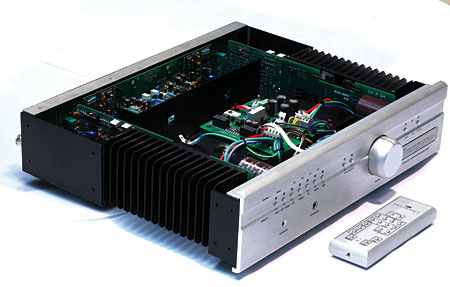 Over the years, I have used and enjoyed in my audio system large, single-purpose components. Each of these chassis has had but one role: preamplifier, amplifier, digital-to-audio converter (DAC), etc. I guess I've been just a little suspicious of products with multiple functions crammed into a single small chassis; I've figured that the designer may have cut a corner that could affect the sound.
Which brings me to the topic of this review, the Bryston B100-DA SST, which is three separate components in one slim chassis: a DAC, a preamplifier, and a 100Wpc power amplifier. (An MM phono module is also available.) Has serving all of these different functions compromised its sound?
There was another reason I was curious about the B100-DA SST. Its optional DAC made it very easy to use with a new type of audio component: the networked music player. Such devices—Slim Devices' Squeezebox and Roku's Soundbridge 1000, for examples—can stream digital music from the excellent Internet radio stations praised by Sam Tellig and Wes Phillips, or to a centralized digital music library, as extolled by John Atkinson. The B100-DA SST also avoids the need to use the often mediocre DACs found in some network players, and eliminates from the analog signal path the extra jacks, plugs, and connectors required when using an external DAC.
Internal components
The power-amplifier section of the B100-DA SST ($4395 as reviewed; I didn't specify the phono option) is based on the 2B-SST, Bryston's 100W basic two-channel power amp. It offers dual-mono architecture with two 250VA toroidal transformers; a third, smaller toroidal helps power the B100-DA's digital module. The amp contains over a dozen regulated or stabilized voltage supplies.
Removing the B100-DA's top panel revealed excellent build quality: minimal point-to-point wiring, high-quality resistors and capacitors, and thick, double-sided, glass-epoxy printed-circuit boards with clear markings. The B100-DA's analog preamplifier uses multiple-pole relays to switch sources, and an integrated resistance network is used to control the unit's volume. All analog signal circuits are fully discrete and Bryston uses 0.1% metal-film resistors, polystyrene capacitors, and selects and matches transistors by hand to keep noise and distortion to absolute minimums.
The B100-DA's DAC is described in an article written by one of the company's customers, Jeff Switzer, that appeared in Vol.8 No.3 of the company's online newsletter . A digital signal input through the S/PDIF jacks on the B100-DA's rear panel is fed via impedance-matching transformers to a Cirrus Logic C58420 digital interface chip. This reduces jitter and upsamples the data from 16-bit/44.1kHz to 24/96. As Switzer states, "the upsampling process doesn't add any new data to that which came off the CD but it puts the data in a form which can better be used by the DAC." Another advantage is that a "new clock signal is applied which causes a significant reduction in jitter."
The D/A conversion is handled by a Crystal CS43122 chip. A digital low-pass filter is applied to the signal before its conversion to analog, and an analog filter afterward. The DAC's performance is tightly regulated by a separate filtered analog power supply with carefully routed grounds. The same circuitry can be found in Bryston's SP 2, the five-channel preamplifier and digital processor reviewed by Kalman Rubinson in his "Music in the Round" column in September 2006 (Vol.29 No.9). The only difference is that the B100-DA's DAC reclocks and resamples the digital input.
The B100-DA is built to last. Each unit must survive a 100-hour factory burn-in in which a squarewave input signal drives the amplifier into a load capacitor at slightly under clipping for one hour, followed by one hour off, and so on. This load is designed to draw the amplifier's maximum current delivery on the squarewave's rising leg. Unlike a resistive load, which dissipates all the energy as heat, the capacitor feeds back the entire signal into the amplifier, which puts maximal stress on the output stages. This heats the amplifier, cools it, and heats it again. This expansion and contraction exposes any loose connections or devices subject to early failure. After burn-in, each B100-DA is bench-tested, and those results are shipped with the unit.
Such overengineering, extensive burn-in, and building to the stringent, constant-use demands of professionals allow Bryston to offer its unique warranty program: Bryston will pay parts and labor costs, plus shipping one way, for the first 20 years of ownership (except for the digital circuits, which are warranted for five years, parts and labor).
Rear-panel connections, front-panel controls
At each end of the B100-DA's rear panel are pairs of speaker terminals. Between them are 10 unbalanced analog RCA input jacks per channel, configured in two rows of five each for each side. There is also rear-panel access to the drive circuits for outboard infrared LEDs, and a bidirectional RS-232 data connector for downloading from Bryston's website. Below this is a 12V remote trigger output, and next to it an IEC 320 AC power inlet. A single Connected/Separate switch next to each channel's input bank lets the user internally connect or disconnect the preamp to/from the power-amp section.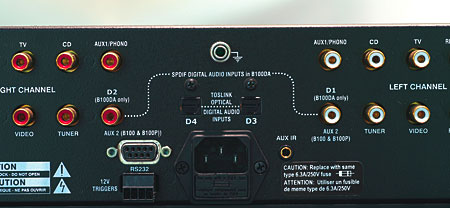 Digital streaming music up to 24/96 can be fed to the B100-DA's S/PDIF coaxial inputs or TosLink optical inputs, which are found near the center of the rear panel. The innermost bottom RCA jacks are designated D1 (S/PDIF coax 2 among the left-channel sockets) and D2 (S/PDIF coax 2 among the right). In the middle of the rear panel are two TosLink optical input jacks, designated D3 and D4.
On the B100-DA's front panel one finds, on the left, a row of seven pushbuttons, above each an LED. These 7 buttons are labeled along the bottom, from left to right: Aux 2, Aux 1/Phono, CD, Tuner, TV, Video, Rec. Pressing the leftmost pushbutton, Aux 2, activates the B100-DA/s internal DAC, causing its LED to turn green. When the LEDs of D1 (S/PDIF 1 source), D2 (S/PDIF source), D3 (TosLink 1 source), or D4 (TosLink 2 also glow green, this indicates that a PCM digital bitstream is present. If no bitstream is available, or if the bitstream is incorrect (ie, not PCM), the LED will turn red. Pushing Aux 2 again toggles its light off and puts the B100-DA in analog mode. This means that only one source LED of the remaining six input-selector buttons will be illuminated, indicating the exact analog source. The large, anodized, motorized master volume knob can be operated via the remote control in both analog and digital modes. Also on the front panel are the headphone jack, IR sensor, and pushbuttons for Balance, Mute, Clip, and Power.
Bryston offers the B100-DA's remote control as a $400 option. Although I grumbled at the thought of having to pay for a remote, I changed my tune when I held this full-function example in my hand: it's very well made, its brushed aluminum is highly attractive, and it controls everything: selection of any source, volume up/down, mute, balance, power off/on, and discrete code entry. Its backlighting is even triggered by a motion detector—it lights up as soon as you pick it up. This is the most attractive and cleverly designed remote control I've seen for a high-end audio product. If you buy a B100-DA, definitely get the remote as well.
Music Serving
As I said, I chose to review the DAC-equipped B100 so I could use it with my network music player. I use a Slim Devices Squeezebox network player ($299) placed atop my Krell KRC-28 CD player, connected via a WiFi link to the D-Link DW 624 router sitting in the kitchen, about 20' away. The music is stored on a IBM X-30 laptop, which sits one floor below in my office, which is also connected wirelessly to my WiFi network. (I use a DWL G800 AP D-Link signal booster.) I connected the Squeezebox's S/PDIF output to the B100-DA's D1 S/PDIF input, using a 1.5m length of Wireworld Starlight digital coaxial cable.
I then installed the Slimserver software on my laptop and used Windows Media Player v.10 to rip tracks from my favorite music CDs as Windows Media Audio (WMA) Lossless files— ie, the best sound quality, which requires 206–411MB of hard-drive space per CD. The Slimserver software (v.6.5.0, downloaded from Slim Devices' website) allowed me to gather these lossless music files into a playlist I titled "Stereophile Music CD Test Program." For the listening tests, I also downloaded Beethoven's Symphony 9, with Wyn Morris conducting the London Symphony, from the iTunes website (footnote 1).
Returning upstairs, I remotely browsed my laptop's music folders via the Squeezebox until I found the My Music directory and the "Stereophile Music CD Test Program" playlist. During my audition of the B100-DA, I selected various tracks from this playlist from my listening-room chair, using the Squeezebox's handheld remote. I also used the free subscription to Pandora.com supplied with the Squeezebox to set up my own Internet radio station to play Keith Jarrett recordings over my system.
Setup
The B100-DA SST's chassis is slim, and smaller than that of the Bryston 4B-SST power amplifier, with which I compared it. My components are mounted on a long sidewall, the amplifiers situated out in the room behind my Quad ESL-989 electrostatic loudspeakers. I had to think about just where I would place the B100-DA: with the source equipment on the shelves, or with the amplifiers? The former required very long runs of speaker cable from the sidewall shelves to the speakers, the latter long runs of interconnect from the SACD player, CD player, and tuner—or a Manley Skipjack source switcher. I decided to put the B100-DA and Squeezebox on my equipment shelf and run long speaker cables to the Quads.
Despite the B100-DA's relatively small chassis, its speaker terminals are still large enough to make speaker-cable connections tight and fast. As on other Bryston products, the B100-DA's hollow posts can directly accept single banana plugs, even though they're also placed the requisite 19–25mm apart to meet EU regulations. The posts are also shrouded in plastic to keep fingers from directly contacting the metal. Slots in the shrouds accommodate spade lugs up to 5/16" thick.
Listening
After burning in the B100-DA SST by having it drive my Quad ESL-989s, I began feeding its DAC digital signals from my Krell KRC-28 CD player and the Slim Devices Squeezebox, which let me compare CD and wireless sources. Listening to "Too Rich for My Blood," from Patricia Barber's Café Blue (CD, Premonition/Blue Note 5 21810 2), I could detect no difference between the digital outputs of the Krell playing the CD and the Squeezebox playing the losslessly compressed file of the same track through the B100-DA's internal DAC—but both digital sources were decidedly better than the SB's internal DAC feeding an analog signal to the B100-DA. For the bulk of my listening, I listened only to streaming digital files fed to the B100-DA.
Through its own internal DAC, the B100-DA's bass response reminded me strongly of the Bryston 3B-ST's. I enjoyed the solidity of the sustained pedal chords from the Lay Family Concert Organ in John Rutter's "The Lord Is My Light and My Salvation" (CD, Reference RR-57CD), and the staccato plucked bass and deep synthesizer in "Something's Wrong," from Randy Edelman's score for the film My Cousin Vinny (CD, Varèse Sarabande VSD-5364). The synthesizer notes in Terry Dorsey's "Ascent," from Time Warp (CD, Telarc CD-80106), were well defined and went deep, and I could easily discern pitch changes in low-frequency synthesizer notes on "Behind the Veil," from Jeff Beck's Beck's Guitar Shop (CD, Epic EK 44313).
Besides reproducing deep bass, the B100-DA could create a sense of depth and space that seemed an accurate facsimile/re-creation of the recording venue. This was evident when I listened to Jean Guillou's transcription for pipe organ of Mussorgsky's Pictures at an Exhibition (Dorian DOR-90117)—in Gnomus, the organ was reproduced with the airiness I associate with a cathedral. The B100-DA could also create more intimate ambiences, such as the one heard surrounding Glen Moore's plucked string bass in "The Silence of a Candle," from Oregon's Beyond Words (CD, Chesky JD130).
Playing the digital stream, the B100-DA's highly satisfying performance captured the different timpani pitches in Stravinsky's The Rite of Spring, as performed by Eiji Oue conducting the Minnesota Orchestra (CD, Reference RR-70CD, tracks 21–24). The B100-DA tracked the pitch and dynamic contrasts heard on this excellent recording, coaxing surprisingly deep bass from the Quads. The Bryston's midrange reproduction was most impressive—the brassiness of trumpets, for example, was raw and involving without being annoying.
The B100-DA revealed the richness of Patricia Monheit's dark voice in her rendition of the 1941 torch song "Besame Mucho," from The Frank and Joe Show's 331/3 (Hyena SD 9320). This track was just as enthralling for its "seductive timbral voluptuousness," as John Marks described it in "The Fifth Element" in the April 2006 issue. The B100-DA also conveyed the beguiling sadness and sweetness of Richard and Linda Thompson harmonizing on "Dimming of the Day," from the soundtrack of Divine Secrets of the Ya-Ya Sisterhood (CD, DMZ/Columbia CK 86534). Paul Simon's voice remained clear and warm at high volumes as he sang "Trailways Bus," from Songs from The Capeman (CD, Warner Bros. 46814-2).
The B100-DA's highs were clean, open, effortless, grain-free, and extended. Paul Simon's vocal sibilants at the beginning of "Trailways Bus" didn't hiss, but were natural, not irritating. Billy Drummond's brushed ride cymbal in "The Mooche," from the Jerome Harris Quintet's Rendezvous (CD, Stereophile STPH013-2), had the characteristic buzz and shimmer of wire brushes, not the static-like hiss heard from lesser amplifiers.
The B100-DA's imaging was delightful. Patricia Barber's voice was holographic and riveting on "Too Rich for my Blood," the instruments behind her clearly separated and occupying their own spaces. In Ariel Ramirez's Misa Criolla (CD, Philips 420 955-2), tenor José Carreras was centered, surrounded by huge amounts of space that helped conjure up an empty, desolate ambience of solitude and desolation. Live recordings also benefited, as revealed by the intimacy and relaxed atmosphere of the Green Mill nightclub, where Patricia Barber recorded Companion (CD, Premonition/Blue Note 5 22963 2). The width of the Bryston's soundstaging was also impressive, as I heard when I played the instrumental finish of Richard Thompson's "Why Must I Plead," from Rumor and Sigh (CD, Capitol CDP 7 95713 2). The B100-DA was able to move the guitar's image well beyond the outer edge of my right-channel Quad ESL-989.
The dynamic range was very good to excellent. In "The Hand-Off," from James Horner's soundtrack score for Sneakers (CD, Columbia CK 53146), the piano scales exploded out of dead-black silence. And while not as dynamic-sounding as the Revel Salon speakers, my Quads when driven by the B100-DA captured the explosive rim shots, tom-tom beats, kick-drum notes, and audience callouts during the drum solo in "The Maker," from Emmylou Harris' Spyboy (CD, Eminent EM-25001-2).
Conclusions
I'm excited about Bryston's B100-DA SST integrated amplifier. Not only is it a rugged and reliable amplifier with a 20-year warranty, it's small, compact, and with the DAC option, it will integrate well with an audio system based on a centralized, wirelessly delivered music library. Whether playing music from a hard drive, or downloaded, or streamed from such services as Pandora.com or Rhapsody.com, the owner of a B100-DA will be able to tap an excellent sonic source.
Sonically, the B100-DA has much of the 4B-SST's character, with its bass definition and speed, openness of high frequencies, and soundstage width, lacking only the 4B-SST's deep-bass punch and greater macrodynamics.While it's easier to warm up to an amplifier with a seductively captivating midrange, such as the much more expensive VTL S-400 ($20,000/pair), the B100-DA is much more neutral and can also throw one of the deepest, broadest soundstages of any amplifier I've heard.
And for streaming digital sources, I'll take the B100-DA's tonal neutrality, conveniences, small size, easy installation, built-in DAC, and backlit remote. Combine all of those features with the B100-DA's bass definition, wide soundstaging, and open highs, and I can hear the music's subtlest details through my Quad ESL-989s. Like Bryston's own 14B-SST and 4B-SST, their little B100-DA SST integrated amplifier connects me to what I truly love in my music collection, and proves that multiple audio functions can work well in a small package.
---

Footnote 1: According to John Atkinson, though downloaded iTunes music files are protected by Apple's DRM software, the DRM is eliminated when the owner burns the files to a CD. I got the four MP4P music files (one for each movement) comprising Beethoven's Symphony 9 to play over a Slim Devices Squeezebox by first burning them to a blank CD, then ripping them back to my computer's hard drive.
Related Links...